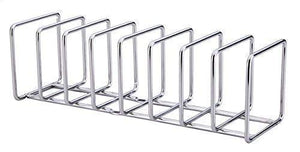 Pro Chef Kitchen Tools Stainless Steel Pot Lid Organizer - Keep Your Cabinets Organized with Metal Vertical Storage Shelf To Hold Pan Lids, Plates, Dishes, Cutting Boards (Packaging may vary)
Regular price
Sale price
$15.87
---
POT LID ORGANIZING PERFECTION Ever play the pot lid shuffle This is when you have to pull a giant stack of lids from underneath the stove and shuffle them all around to find the one you need. Say goodbye to the clutter, clanging and hassle of dealing with pot covers. The modern design holds 8 lids of practically any size, shape and weight. Also works great for plates, cutting boards and dishes. Stylish enough for any home while also being strong enough for commercial kitchen needs.
ELIMINATE KITCHEN CLUTTER IN STYLE Simple yet elegant, this contemporary kitchenware fits into any style of dcor. This unit has a small footprint which fits onto counters, into cabinets and even on top of the fridge! Screws are not include. Stainless steel looks beautiful while remaining corrosion and Won't slide around on a soapy, wet counter, either. Prevents kitchenware from accidentally crashing to the floor. Practical and elegant, you'll love having a beautiful, convenient place to store your dishware
SAVES ENERGY AND SAVES MONEY Ever had a big dinner party or gathering and been faced with a mountain of dirty dishes afterwards You know how just a few covers can completely fill the bottom of the dishwasher. That inefficiency wastes water and electricity. Washing dishes by hand and leaving them in the rack to dry will help lower your bills. Vertical stand allows for quick drying. The best part Once dry, you don't even have to put them away - it's already right where it needs to be!
FITS YOUR HOME COOKING NEEDS The low, wide dividers provide the perfect fit for just about any style of lid, cover or flat kitchen product. Even "old fashioned" oddly-shaped pot covers will rest solidly into the separators. The square design with rounded corners won't damage your dishes. When not needed, it allows for easy storage both vertically and horizontally in order to take up minimal space. The last thing you need in your cooking space is another thing to find a place for!
ABSOLUTELY LOVE IT OR WE'LL GIVE YOU A FULL REFUND! Try it today and buy with confidence with our simple, hassle-free, no-questions-asked 100% MONEY BACK SATISFACTION GUARANTEE! If for any reason you aren't happy we will immediatly refund your full purchase price. Tough durable construction and fine workmanship details are confidently backed by the manufacturer's risk-free LIFETIME REPLACEMENT WARRANTY that covers any defects when purchased from authorized resellers.
Clang! Clang! Clang! Selecting the right cookware shouldn't sound like a scene from a Transformers movie. Flat dishes with a large surface area are the worst culprits. If you want to stack your pots to save space then you have to store their coverings separately. Unfortunately, stacks stored under your stove or in a cabinet are a hassle to manage. You shouldn't have to unpack your entire supply of dishware in order to use one item. Fortunately, this organizer is the perfect solution and holds up to eight flat pieces of kitchenware. You can easily find space on just about any cabinet or kitchen surface... even put one above the refrigerator! Beyond pot lids it also holds any type of flat cookware including glass and ceramic plates, cutting boards and more. Efficient, durable kitchen storage is just the beginning. This is also a perfect dry rack, too. Scrub them in the sink and let them dry right where they're normally kept.
Pro Chef Kitchen Tools Amazon ASIN B00UUCE2QG Home & Kitchen Kitchen & Dining, Storage & Organization, Cabinet & Drawer Organization, Pot Lid Holders