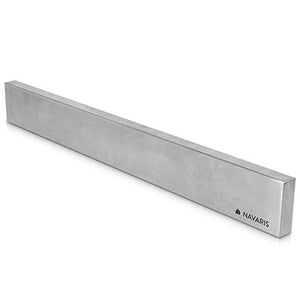 Navaris 40cm Magnetic Knife Holder - Stainless Steel Magnet Wall Strip for Cutlery Tools Kitchen Organizer
Regular price
Sale price
$17.99
---
QUALITY CONSTRUCTION: The Navaris magnetic knife bar is made of high-quality stainless steel over strong magnets. Feel confident that all of your kitchen surfaces are safe, clean and hygienic!
SPACE SAVER: The wall mounted knife hanger is the ultimate storage tool! Replace big knife blocks and utensil holders that use up valuable counter and drawer space.
MULTIPURPOSE: Not only can you use it to hold cutlery and metal spice jars, but you can also use this awesome organizational tool for other items - stick tools, toys, keys and keychains, or art supplies to it as well.
EASY TO INSTALL: The Navaris magnetic knife rack is easy to set up - there are predetermined holes on the back and the wall mounting equipment (screws and plugs) are included in the packaging.
BEAUTIFUL DESIGN: The Navaris magnetic knife bar not only declutters, but also gives your space a modern touch. *The actual bar length is 15.7in (40cm x 4.7cm) and mounts neatly underneath upper cabinets.
Navaris - Home & Living - Pretty / Useful
Double your workspace, improve accessibility and revamp kitchen design at a reasonable price with the Navaris stainless steel magnetic knife holder!
BEAUTY AND FUNCTION
The magnetic knife strip finished in stainless steel adds a modern touch to your backsplash all while serving as gadget that holds all your most used tools in
the kitchen!
ORGANIZATION 101
A messy space is an unproductive one. This magnetic knife bar helps you free space in your cabinets and on your worktop. It keeps knives and other tools in
plain sight so you spend less time rummaging through drawers!
MULTIPURPOSE
The powerful magnetic knife strip can also be used to hang tools, keys, toys, art supplies and other metal items.
ATTENTION
Do not place the magnetic strip near devices that may be damaged by strong magnetic fields - i.e. pacemakers, laptops, hearing aids and other gadgets.
NOTE
Knives are not included, but Navaris does offer beautiful knife sets to compliment the magnetic strip - buy today!
SPECIFICATIONS
Material: stainless steel
Dimensions: 40 x 4.7 x 1.7 cm
Weight: approx. 1 kg
Distance between holes: approx. 33.5 cm
SCOPE OF DELIVERY
1x Navaris magnetic knife strip
1x Mounting accessories (plugs + screws)
Navaris Amazon ASIN B079T5GQQL Home & Kitchen Kitchen & Dining , Cutlery & Knife Accessories , Knife Blocks & Storage , Magnetic Knife Strips