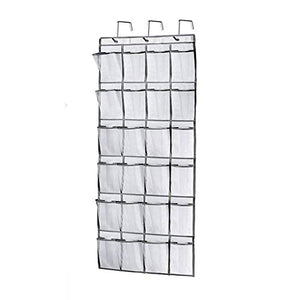 LIKE SHOP Hanging Over The Door Shoe Organizer 24 Large Mesh Pockets, Non-woven Fabric Storage Bag
Regular price
Sale price
$12.99
---
Nylon Mesh
EFFECTIVE REGULATION SAVES SPACE: Organize your shoes and save floor space with this attractive over the door Shoe organizer.24 roommy see through mesh pockets organizes up to 12 pairs of shoes and other things.
A VARIETY OF APPLICABLE SCENARIOS: Perfect for organizing shoes, bathroom and cleaning supplies, toys and barbie dolls and accessories.Hanging over the door in the bedroom, bathroom, kitchen and storage chamber, it also suitable for wall mounting.
DURABLE & VENTILATED MATERIAL: Nylon mesh is ventilated and visible.There is easy to take the item that you want.The mesh pockets make it easy to see items even in a dim closet.And durable and sturdy for long time.
EASY INSTALLATION & FOLD:3 over the door hooks inculded and just need hanging over the door.This shoe hanging storage could easily be fold to small size, works great for travel.
LARGE POCKETS: Each pocket measure 4.33"*4.33"*8.26".Large capacity to store your shoes, toys and other accessories. This shoe organizer is the perfect solution to your shoe organization needs! The hanging shoe organizer suspends your shoes on your closet door maximizing your wardrobe and floor space.
The art behind the door - LIKE SHOP OVER THE DOOR ORGANIZER.

What you should do if these problems bother you
1. The shoe cabinets are full, and there are a bunch of shoes that have no place.Looking for the shoe organizer with large enough pockets
2. The kitchen tool can't always found timely. It's not convenient to take it.
3. Children's small toys are always messy.No place organizing for them.
4. There are no place for bathroom towels, shampoo, shower gel and so on...
You only need a OVER THE DOOR ORGANIZER to solve all your troubles.

Usage:
* In your camper over the bathroom door to hold lotions, hair products, soaps, etc.
* In your closet, sets of underclothes (like socks / tights and panties OR t-shirt, underwear and socks) could be organized.
* In your bedroom, store and organize accessories: scarves, belts, costume jewelry, shoes, dolls etc.

Product Instroduction:
* Material: Non-woven fabric Nylon
* Back Fabric: Two layers non woven fabric, AOZ free.
* Dimension: 168cm(H) x 48cm(W)/66inch(H) x 18.9 inch(W)
* Pocket's Dimension: 20cmx10cm/7.87inchx3.94inch
* Expanded size: 168cm*48cm / 66.14"*18.9"
* Folding size: 30*26*3cm / 11.9"*10.23"*1.18"
* Washing instructions: can be washed, but machine washing is not recommended.
* Packing: 1* hanging shoes organizer + 3* hooks

Installation Tips:
Step 1: Unfolding the door storage bag.
Step 2: Hooking the 3 holes with hooks and hanging the door back.
Step 3: Hook width: 4.2cm / 1.65".
Step 4: In order to allow the door open and close freely, the thickness of the door need within 4.4cm / 1.73".
The gap of the door should have the thickness of a coin.

WARRANTY:
-- 90 days no reason return.
-- Full payment refund if you are not 100% satisfied;
-- Just click Buy Now and enhance your orgainze experience.
LIKE SHOP Amazon ASIN B07D1NTJK2 Home & Kitchen Storage & Organization , Clothing & Closet Storage , Shoe Organizers , Over the Door Shoe Organizers