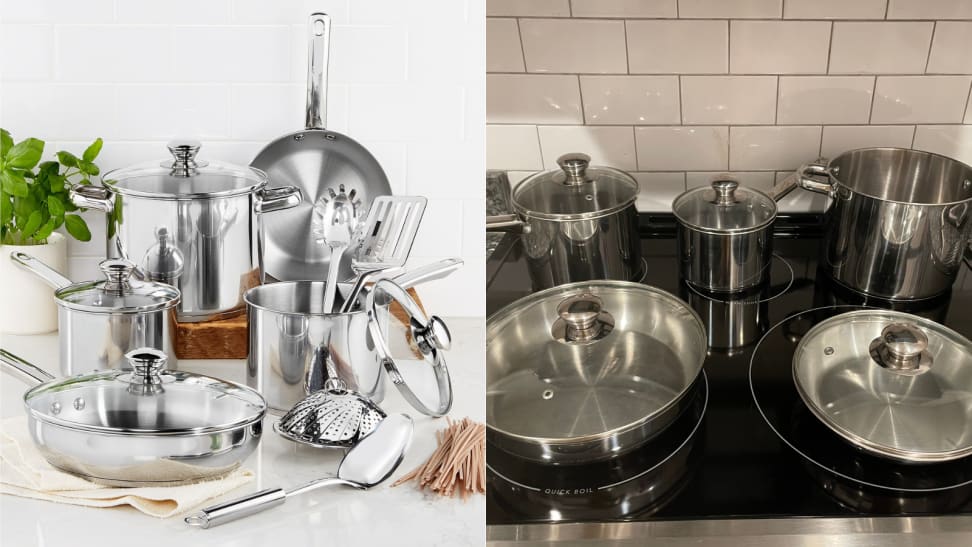 — Recommendations are independently chosen by Reviewed's editors. Purchases you make through our links may earn us a commission.
Your kitchen may have a perfectly organized fridge, the latest air fryer, and plenty of counter space—but if you don't have a quality cookware set, is your kitchen really complete? Whether you're an experienced chef or still a little hesitant when it comes to making scrambled eggs, having a reliable cookware set can really make or break your cooking experience.
Years ago when I was moving into a new apartment on my own, I figured it was time to forgo my relative's hand-me-down pots and pans, and finally invest in a set that was ready to stand the test of time in all of my cooking endeavors. I wasn't looking for something worthy of a Michelin-starred restaurant, just a basic set that could deal with a cook who isn't afraid to try new things and who often causes some commotion in the kitchen. After endless dirty dishes, plenty of dinner parties, and two wildly successful Thanksgivings, I can wholeheartedly say that the 13-Piece Tools of the Trade Stainless Steel Cookware Set from Macy's is one of the best investments I've ever made for my kitchen.
What's in the Tools of the Trade cookware set?
The Tools of the Trade stainless steel cookware set comes with 13 pieces. First, the basics: a 1.5-quart saucepan with lid, a 2.5-quart saucepan with lid, a 5-quart stockpot with lid, a 9.5-inch saute pan with lid, and an 8-inch frying pan. The set also includes a steamer and three different cooking utensils—a large spoon, a spatula, and a pasta server.
How does the cookware look and feel?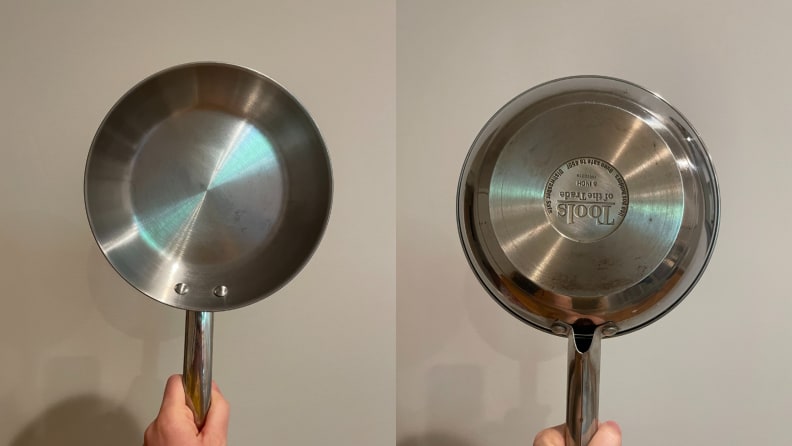 As it says in the name, this set is made out of stainless steel. That includes the saucepans, stockpot, saute and frying pans, as well as the cooking utensils. The only parts of this set that aren't stainless steel are the lids to each of the pots and pans, which are made of glass.
To put it simply, this set is made up of tools, not jewels. There's nothing flashy or trendy about these stainless steel pieces. They aren't meant to be beautifully displayed in your kitchen like a Dutch oven, or go straight from stovetop to table like the Always Pan. They're here to do the dirty work, get the job done, and then relax in your sink while they wait for you to wash them.
This cookware set manages to be sturdy while still being light. I have no problem working one handed with the saute and frying pans. Even when I'm filling the saucepans or stockpot at my kitchen sink, I can easily transport them one handed back to my stovetop—a far cry from when I try making anything in a cast iron skillet.
An added bonus to not being an extremely bulky set? All of the pots and pans can fit in one cabinet in my kitchen, along with my Dutch oven and another stockpot. This set is a perfect solution if you have a kitchen with limited storage space.
How does it perform?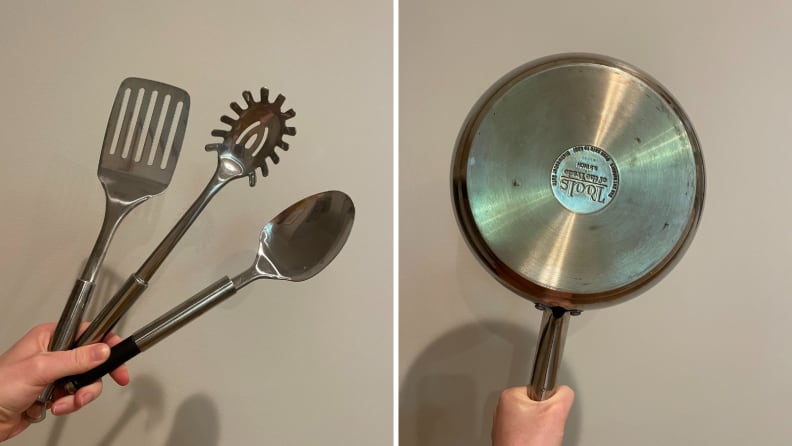 Throughout my two years of use, these pots and pans have been nothing but the MVPs of my kitchen. They heat evenly on my electric stovetop, and can stand up to both daily use and when it's time to make a show stopping meal, like Thanksgiving dinner. Like most stainless steel, they can stain fairly easily, and that's the number one complaint I've seen online from other owners.
However, with a little elbow grease and some Dawn dish soap, you can get those pans looking spotless in no time. I use the 8-inch frying pan daily and have burnt everything from olive oil to eggs to burgers on it, but it doesn't have any horrific battle scars on its surface.
Not sure if stainless steel is right for you? Don't fret. Our Kitchen & Cooking senior writer Valerie Li Stack says, "While some novice home chefs may be worried about food sticking to the pan, we actually found a good way to prevent sticking through seasoning."
Though seasoning your stainless steel pans is a great way to make them more like nonstick pans, I don't find it that necessary to do to my Tools of the Trade pans. Plus, I don't mind a little extra scrubbing if I wind up with something burned on to the bottom of a pan.
Is it easy to use and clean?
The pots and pans in the Tools of the Trade set are wildly easy to use and clean. Lightweight and compact, I've had the frying pan, saute pan, and both saucepans simmering on my stovetop before, with plenty of room to spare.
I've found that putting these pots and pans in the dishwasher is usually just a waste of time and precious dishwasher space, so I always opt to hand-wash after I cook with them. Though I've had success with throwing other stainless steel pans into the dishwasher before, my Tools of the Trade set never looks (or feels) clean after going through a cycle. Instead, I recommend using a food scraper—truly one of the greatest kitchen investments of all time—and a quality kitchen sponge to get any stubborn stains off quickly.
What we like
Has everything you need for a basic cookware setup
Large utensils are included
Pots and pans can be easily stored
Lightweight and easy to care for
What we don't like
Handles get hot when cooking (like most stainless steel cookware), especially knobs on the top of each lid
Easily stains, but nothing a little dish soap and elbow grease won't get out
Larger frying pan not included
Is it worth it?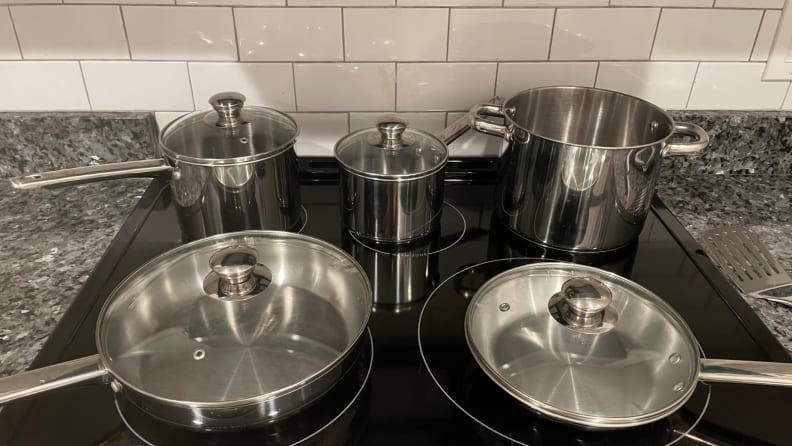 If you're looking for a no-fuss stainless steel cookware set that includes all of the basic pots and pans, the Tools of the Trade cookware set is for you. It's ideal for any level of cooking ability, though truly beneficial for someone piecing together their first kitchen or someone just starting to hone their culinary skills. At this price point, this set is worth every penny for the quality meals it'll help you whip up for years to come.
The product experts at Reviewed have all your shopping needs covered. Follow Reviewed on Facebook, Twitter, and Instagram for the latest deals, product reviews, and more.
Prices were accurate at the time this article was published but may change over time.