Creating a multi-use vanity and extra storage for a family of six.
Emily is a makeup artist with a large family. Her face is her billboard, so she likes to take her time getting ready in the morning. However, sharing one-and-a-half bathrooms with four children was cramping her style.
"Every morning, (the kids) would be fighting over the sink and mirror trying to do their hair and teeth," Emily says."They could never find what they needed. Sometimes the drawers wouldn't close, or they wouldn't open. There was just too much stuff! I tried getting ready in the other bathroom, but it's too small. A friend suggested I put a vanity in the bedroom, but my husband works nightshift and sleeps late."
Adding on wasn't an option.
Emily's first thought was to add a second full bathroom. Since the family lived in a townhome, their ability to renovate was limited. They could only build into the backyard, which would mean sacrificing their deck or the play set, neither of which they were willing to do. They would also need permission from the owner's association, and they weren't likely to get it.
We'll Design Your Ideal IKEA Bathroom Easily, Affordably, and Online
Our IKEA Bathroom Design Package is everything you need to complete your new bathroom with confidence.
GET STARTED TODAY
In the end, they decided to use their next tax return (which came to about $3,000) to remodel their full bathroom to suit their needs. Emily wanted space for her hair and makeup products, her children's personal hygiene items, hand towels, and bathroom cleaning supplies.
While browsing Houzz.com's inspiration photos, Emily found exactly what she wanted, but the designer would have charged about $1,000 for the design. He told her that the total project cost would be around $10,000—without the corner tub in the original photo. She also noted that the drawers in the picture were smaller than she wanted—another upgrade that would have blown the budget.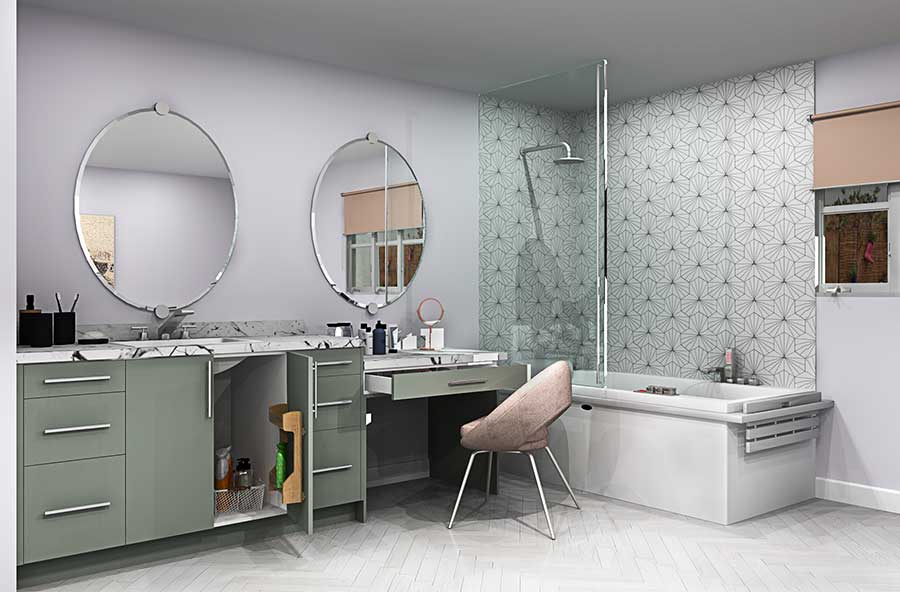 IKEA had the styles they wanted, and it was in their price range.
"My husband and I stopped by IKEA to look at their sinks and vanities, and they were in our price range. My husband said that we should be able to install them ourselves and save even more. But none of them were exactly right. Some had little drawers, some had cabinet space…Some looked like they had a lot of room, but then the plumbing took up a lot of the space. What we really wanted was a single sink with more counter space, lots of storage, and a separate vanity for me."
They decided to talk to an IKEA designer before leaving the store, but they were fifth in line and had to get back to their kids, so they left before they could speak with anyone.
"We thought we'd use the IKEA planner tool and just figure it out ourselves. We measured our space and made the floor plan. Then we started accidentally adding things that we couldn't delete. We couldn't put the bathtub fixtures where we wanted, but they should have fit. And we never did find anything in the online store that looked like it had enough storage."
They got what they wanted using IKEA's SEKTION cabinets.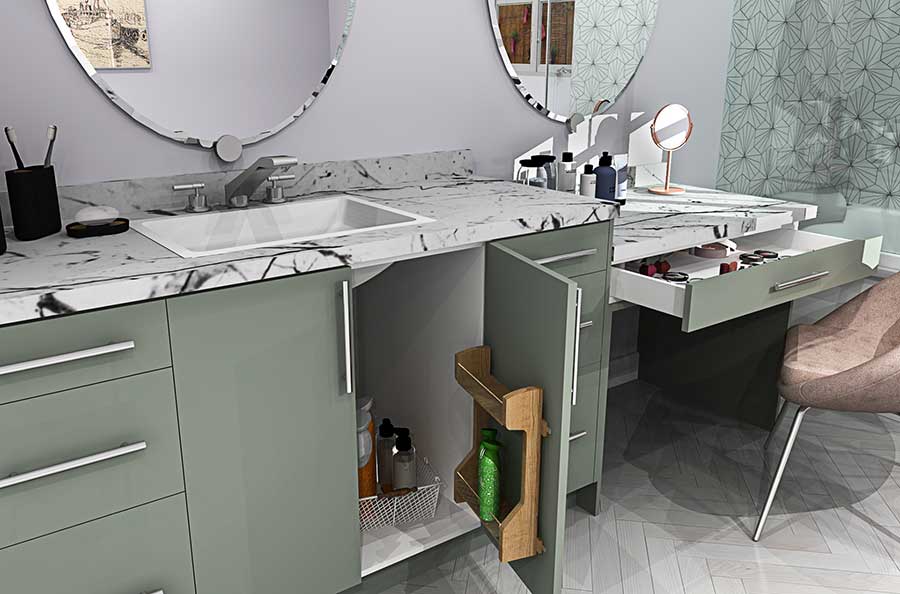 Emily looked online for more options, hoping someone had run into a similar issue and still managed to stay within an IKEA budget. She came across IKD and found their design fee reasonable. With the help of her inspiration photos, she was able to get the bathroom she wanted without having to compromise or spend much more than she intended.
"I decided the best way to give Emily the design she wanted was by forgetting the IKEA bathroom options and going straight for a SEKTION cabinet hack. We designed a sink and vanity with six 24" deep SEKTION drawers and wall cabinet with BODARP grey-green fronts and KALLROR cabinet pulls – with a final IKEA cost of $1,039. IKEA materials for customization and installation included.
A Rev-a-Shelf, pull-out, wood vanity storage rack – for $119 – added extra space for tall items below the sink. We designed a matching makeup vanity by cutting a standard 36″ x 15″ SEKTION wall cabinet down to 36"x 5" to hold Emily's beauty supplies – and finished the look with two oval mirrors sourced from Amazon for $134." – IKD designer Richard.
Since Emily and her husband installed everything themselves, their final IKEA cost, including hardware, came to $1,308.
"IKD gave us a supply list, plans, and a 3D picture of what the design would look like when it was built. And we did it! I love the oval mirrors and the way they reflect the light, the fact that I have my own space! My little vanity drawer is perfect for everything I use on a daily basis, and there's enough storage under the sink for me to keep extra supplies."
Emily's mornings are more relaxed now. With the added space and individual drawer organizers, the kids' routines run more smoothly, too.
Key Takeaway
IKEA's bathroom vanity options aren't just limited to what you find in the bathroom section of the store. With a little creativity, cabinets traditionally used in kitchens, like SEKTION, can be customized to create more bathroom storage.
Get a Professional IKEA Bathroom Design – All Online
Work with our certified designers to get a personalized bathroom designed around your needs and vision. If you're interested in learning more about our service, make sure to check out our IKEA Bathroom Design Services.