A new year brings a fresh start, and your home is no exception.  If you are looking to update key spaces in your home this year, it helps to look at the latest trends to get inspired.  This year sees kitchen and bathroom design pair functionality and style with beautiful materials, updated color schemes, ultra-custom storage, accessibility, and more. Here are a few of the key trends to watch in 2022 for kitchen and bathroom design.
A return to wood tones…and a change to bold colors
White kitchen design and painted neutrals for bathroom design are still a very popular choice, but this year will also see a return of natural wood tones for cabinetry. At Lang's Kitchen & Bath we saw this trend developing in 2021 and expect the request for natural wood cabinets to gain momentum in 2022.  It's easy to see why when you experience the natural beauty of wood cabinetry in the wide array of wood species and tones available.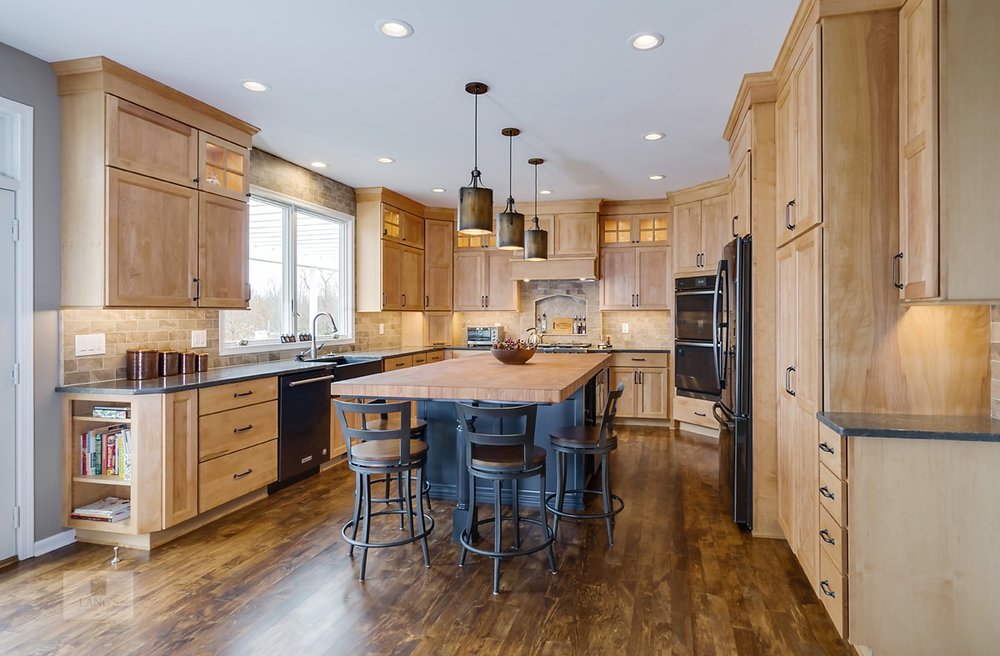 Light wood is becoming even more popular and fits perfectly with a contemporary or Scandinavian style kitchen or bathroom design.  Light wood also evokes the cool relaxation of a spa style bathroom remodel. Go for the best quality you can afford and allow the natural beauty of the wood to shine through.  Cabinetry with small detailing is increasing in popularity, but also slab doors are a top choice and work perfectly with quality wood where the surface takes center stage.
Wood brings warmth to any room in your home, and kitchen and bathroom design is no exception.  Warm wood tones are a timeless classic and can be added not just in cabinetry but also in floating shelves, countertops, flooring, and accessories. Textures play an important role in kitchen design and bathroom styles, and wood is an ideal way to add layered textures to your space.  Give your room a rustic vibe by including reclaimed barn wood in the form of shelves or a barn door.
The counterpart to these natural wood tones is the rising trend in bold color choices for kitchen and bathroom design. Some homeowners are opting to make a daring choice and completely change up their cabinetry for the latest color trends like blues, reds, and greens.  If you love a particular color and can commit to it, then go for it! If you are unsure but would like to inject some color into your home, consider sticking to one element like your island cabinetry or a beverage bar. Or go neutral for cabinets but bring in an accent color through accessories, barstools, and wall accents like a recessed tiled niche. Consider this year's Pantone color of the year, Very Peri, as a bright, creative choice for bathroom accessories. Or go back to nature with Sherwin Williams color of the year, Evergreen Fog.
Greater focus on the kitchen island
Open plan, multi-functional kitchen design has become the norm in many homes. To keep this style from becoming disorganized and chaotic, an open plan kitchen relies on work zones, creating distinct space for everything from cooking to entertaining, dining, and office work.
The kitchen island plays a key role in creating this highly efficient kitchen layout, while also serving as a design focal point for a kitchen and creating extra storage and workspace.  Even if your existing kitchen layout does not work with an island, a kitchen remodel can be the perfect opportunity to change up your layout, knock down a wall, or even move a wall to accommodate the island you always wanted.
What's not to love about a gorgeous, functional kitchen island? Here are some of our favorite island ideas for 2022 kitchen design:
Utilize your island cabinetry to add a pop of color to your room with a contrasting cabinet shade in one of this year's popular bold colors.

Let your island shine with gorgeous statement lighting, like 2022's on trend lantern style lights or the ever-popular bold pendants.

Bring a dash of luxury to your kitchen design with a high-end countertop for your island. Even if an expensive countertop for your entire kitchen does not fit within your budget, you could go for a luxury countertop choice for your island and balance it with a functional, but lower priced countertop for your kitchen perimeter. Or consider installing a section of more expensive countertop at one end of your island to create a wood tabletop or a piece of marble for a baking station.

Some homeowners are opting to install two kitchen islands, or a multi-level island in a T- or L-shape. If you can make space in your kitchen remodel, extending your island space allows you to create customized spaces for food prep, dining, and more.

Appliances are finding their way into kitchen islands too, which really transforms the island into an efficient work zone and frees up space in the kitchen perimeter for storage. You could opt to move your cooking to the island with a range, built-in microwave, and food prep area. Or include a multi-functional Galley Workstation for the ultimate kitchen tool that takes you from food prep to serving to clean up in one location.
Ultra-custom storage
Kitchens
Today's kitchen and bath designs must be ready for anything. Kitchen designs have become the hub of busy home life, with cooking, dining, and entertaining taking place in the same room.  The kitchen must therefore be able to shift from food prep to serving with ease and allow you to easily find and store everything you need including food supplies, cooking tools, and dishes. In between meals, kitchens are often used as a space to hang out, study or work in, or host a coffee morning.
Storage is essential to keeping the kitchen neat and running efficiently.  This is not as simple as just adding more cabinetry or installing floating shelves.  You must think about how you use your room, what you need to store, and how often you need to access these items.  Then create customized storage solutions to match your requirements to ensure every item has a home and can be easily identified. 
This could include deep drawers with peg solutions to separate dishes or heavy pot lids, shallow drawers with inserts for linens or spices, pull outs for everything from cooking oils to baking supplies, and electronics drawers with charging points for all your devices. Vertical tray dividers or a custom pull out for trays keeps heavy cutting boards and baking trays organized.
Add custom pantry storage, a beverage station, and space to keep your gadgets and small appliances to reduce clutter and make your kitchen design more efficient. Don't forget about waste disposal, with carefully positioned trash and recycling pull outs. Open storage such as floating shelves or an alcove are ideal for both practical storage and decorative display.
Bathrooms
Likewise, a busy master or family bathroom design is more than just a luxury tiled shower or freestanding tub.  Storage solutions are essential to ensure you have space for every shampoo bottle, razor, styling tool, and towel. Just like with a kitchen design, you must first start by examining your bath design, how you use it, what you need to store, and based on that which storage solutions fit your requirements.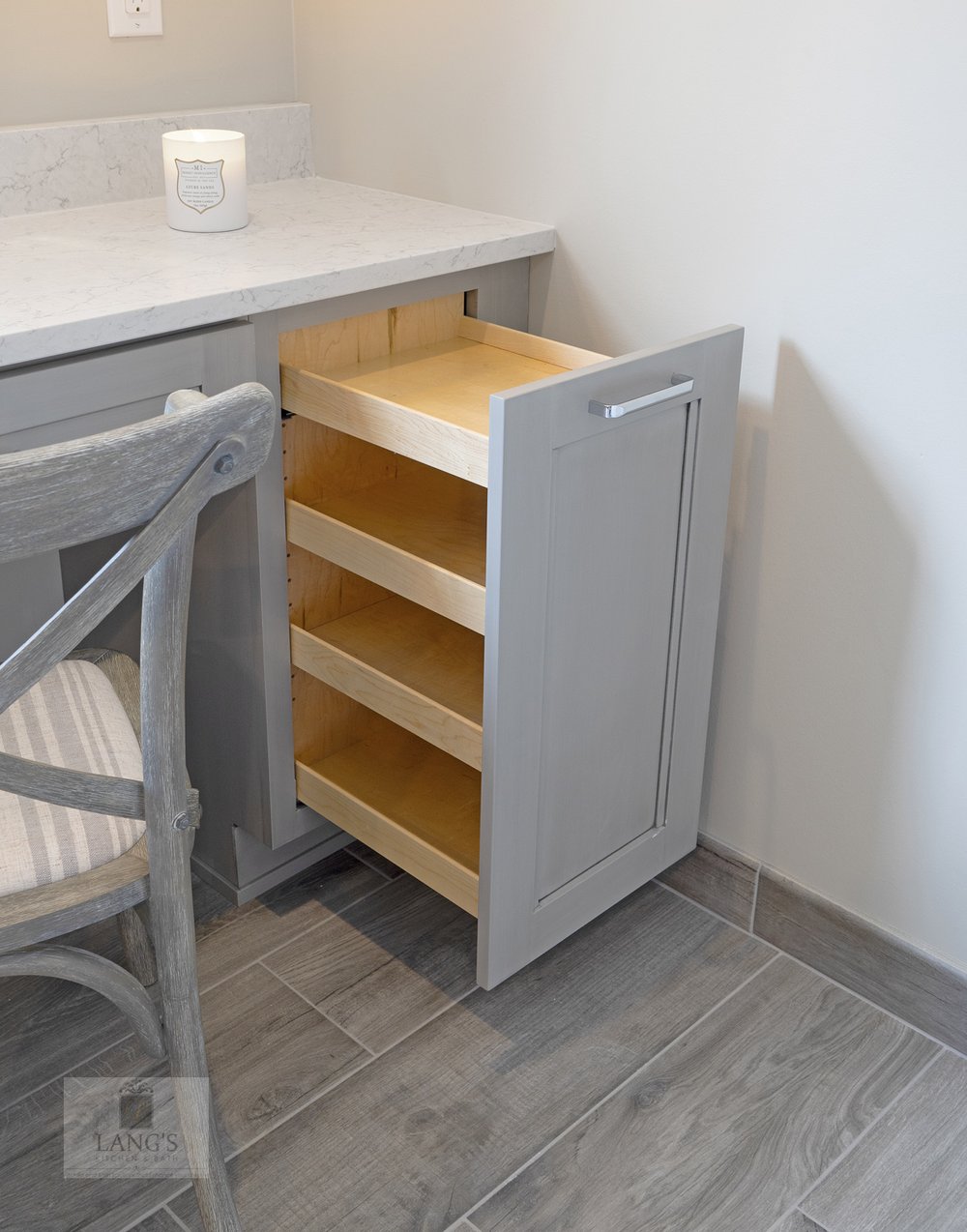 Get the essentials right first, including internal vanity cabinet storage, shower niches or shelves, and accessible storage near a bathtub.  Make sure you limit items in open storage to those you really need. For example, keep spare shampoo bottles in a vanity cabinet shelf and only have those you are currently using in your shower niche. A shelf or niche near a tub could be used for bath bubbles and soap, but also serve double duty as a place to keep candles or decorative items that make your bath experience more enjoyable.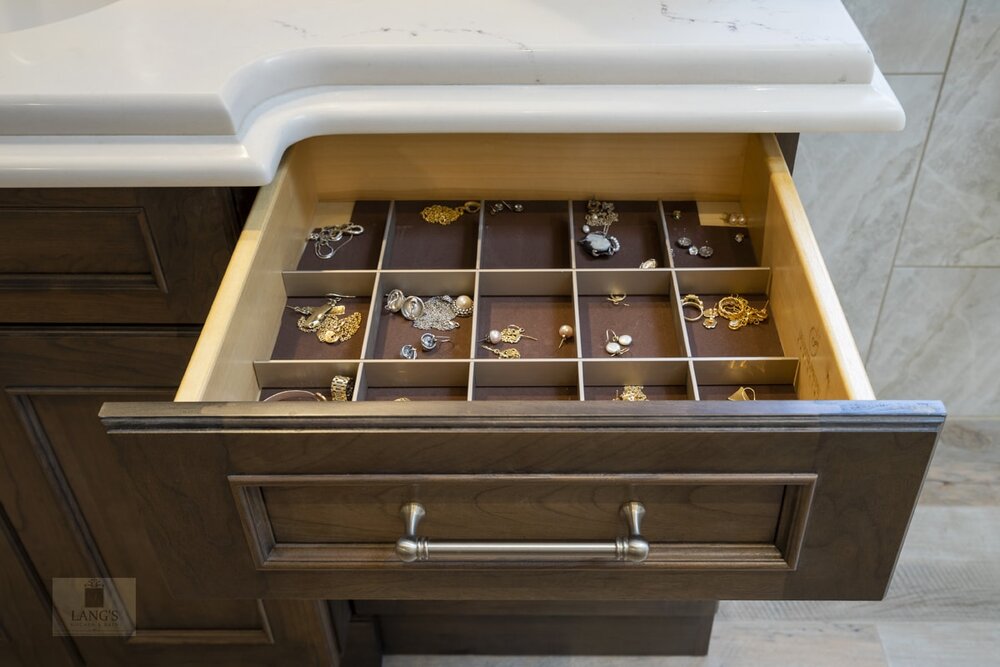 Then create custom accessories for your cabinet storage including roll-out shelves, pullouts with inserts for styling accessories, and drawer inserts for everything from makeup to jewelry.  Include a pull-out laundry hamper so you can drop dirty clothes and towels in the hamper and not on the floor. Keep your electronics organized and away from moisture prone surfaces with storage drawers including charging points and electrical outlets.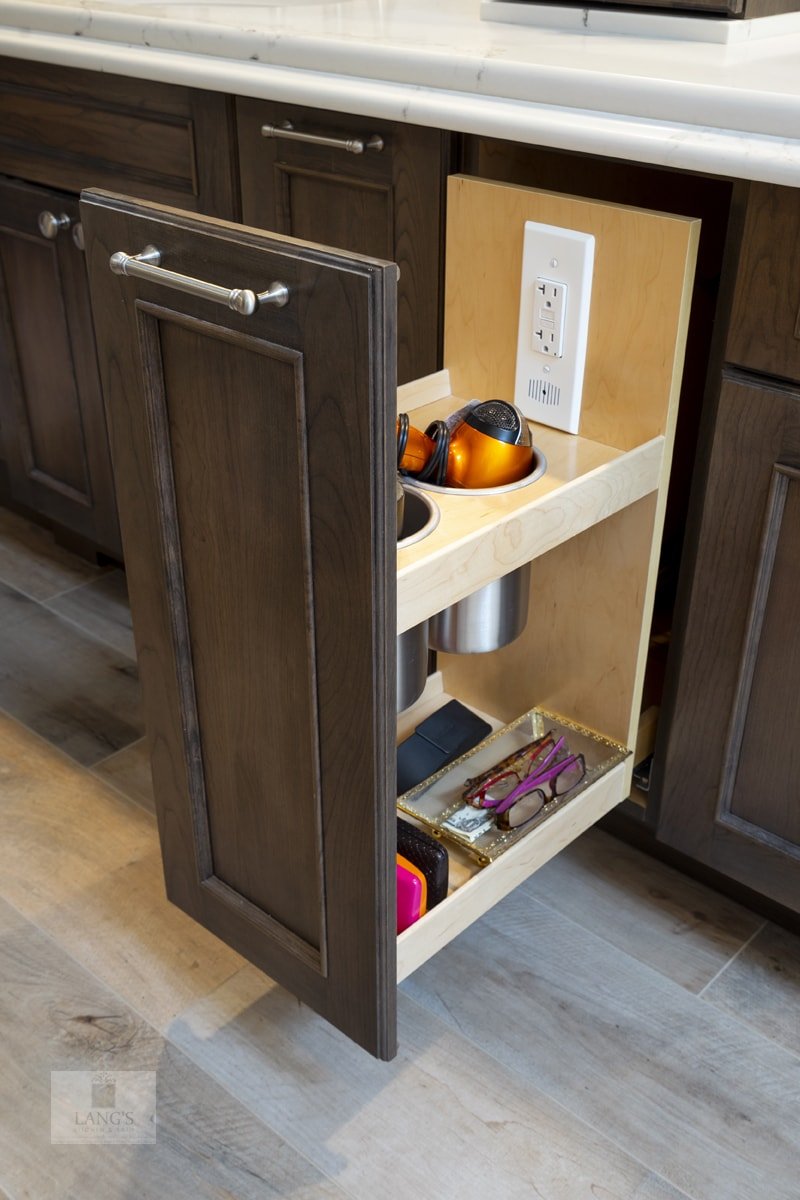 Aging in Place (with Style)
Designing a space for aging in place means you must prioritize functional needs, but it doesn't mean you have to sacrifice style. Today's accessible spaces incorporate everything you need for a universal design, but in the latest styles, materials, and finishes.  If you are embarking on a kitchen design or bathroom remodel and plan to stay in your home, it pays to future proof your design.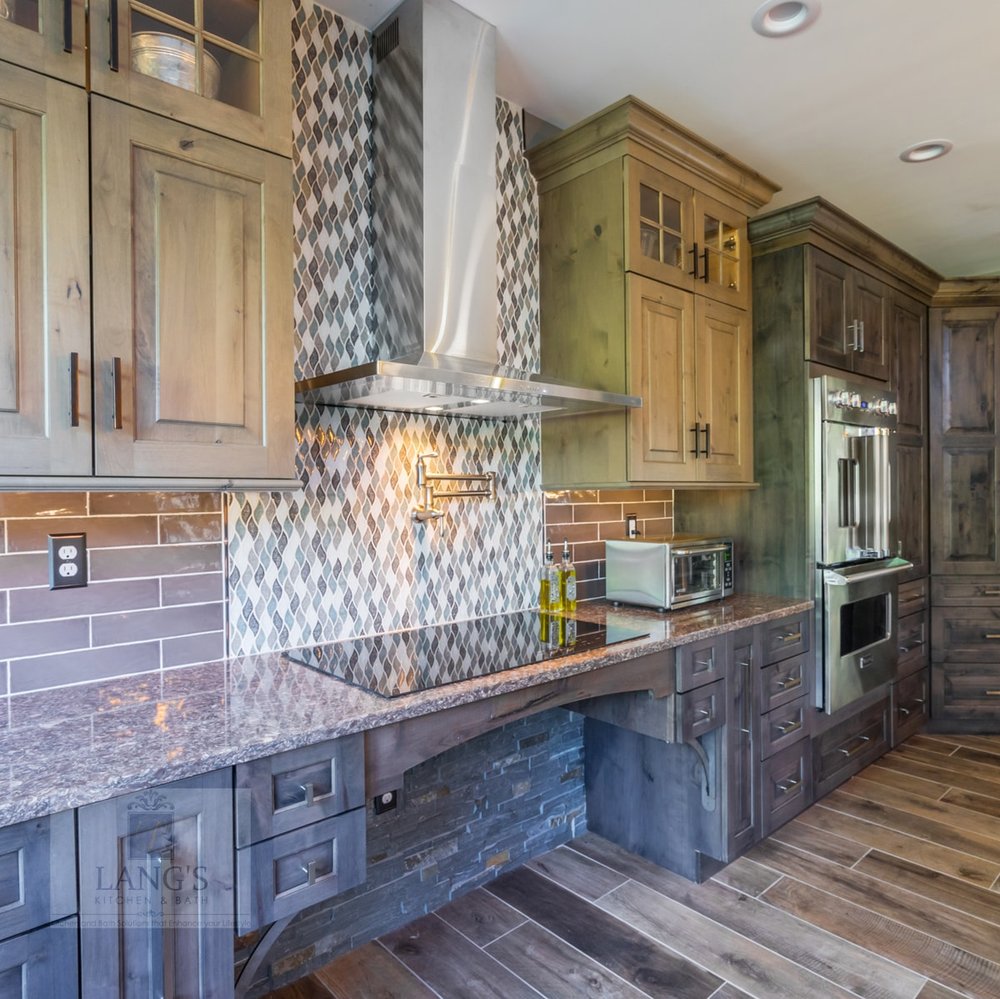 In a kitchen remodel this could include choosing a cabinet profile and countertop edge that is easier to work around without bumping into sharp corners.  Cabinet hardware makes a difference, as pulls are easier to manage than knobs if you have difficulty grasping objects. Floor materials are essential too, as polished tile can be extremely slipper when wet.  Choose a floor material like textured tile or hardwood for a surface that balances style and safety. There are many modifications that can be made to a kitchen design to create a fully accessible space, like this wheelchair accessible kitchen remodel in Warminster, PA.
A bathroom design created with accessibility in mind starts with a layout that accommodates your needs, whether that is space for a wheelchair to maneuver or simply storage that is easy to access.  A curbless or fully open shower is the best option for accessibility as it allows you to walk in without risk of tripping, or to easily use a mobility aid to get in and out of the shower. Pair this with a built-in shower bench or pull-down seat, a textured tiled shower floor, and grab bars and you have a shower that fits everyone's needs.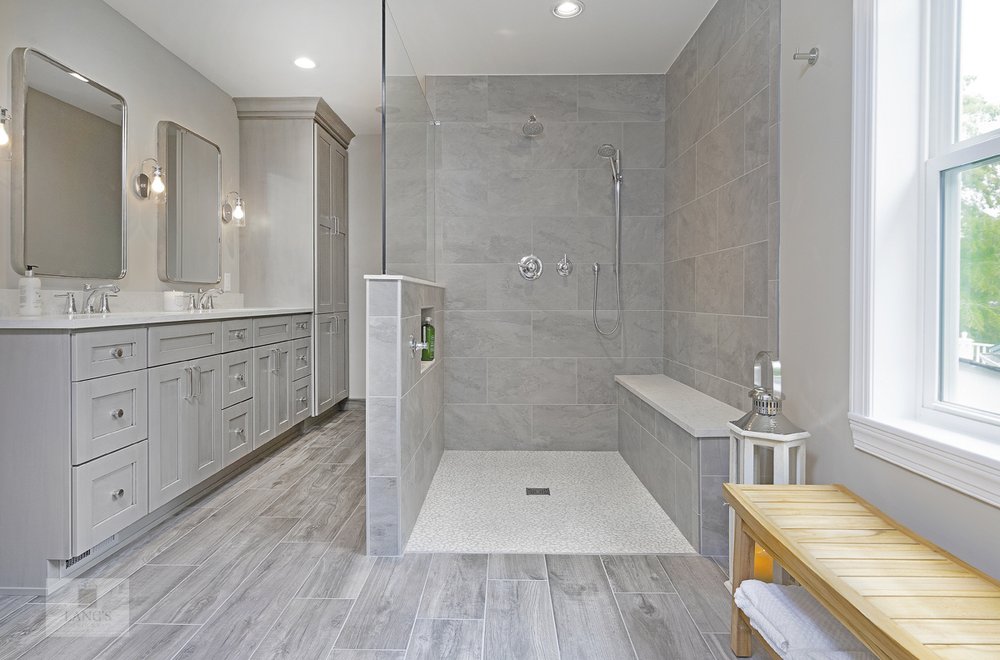 Today's accessible bathroom designs balance style and functionality by incorporating beautiful materials like grab bars in updated finishes that match your room's hardware and plumbing fixtures.  Make sure you avoid sharp corners and include flooring that is slip resistant, ideally with the addition of underfloor heating which makes the bathroom design more comfortable and eases tired feet.
Multiple showerheads
A large shower style leaves plenty of room for added luxury features, like recessed storage, a built-in shower bench, and stunning tiled and glass enclosure.  They also allow for multiple showerheads, which are increasingly popular as showers become a home spa retreat where you unwind and rejuvenate.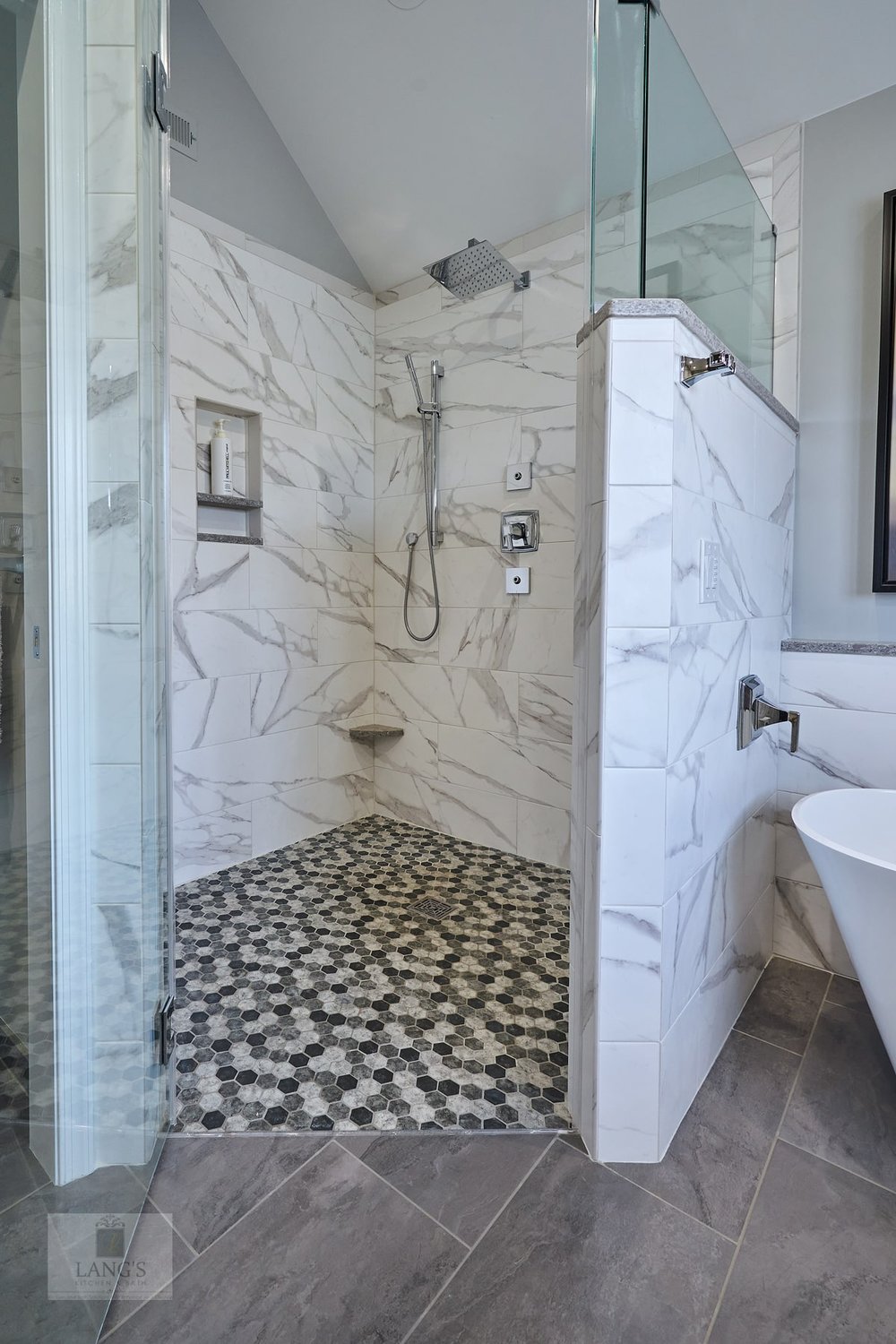 Multiple showerheads could include a regular showerhead and handheld showerhead but could also incorporate a rainfall head as well as massaging body sprays.  A larger shower could place the handheld showerhead away from the main showerhead, perhaps near a built-in bench, or could even include two separate shower stations to allow more than one person to use the shower at once.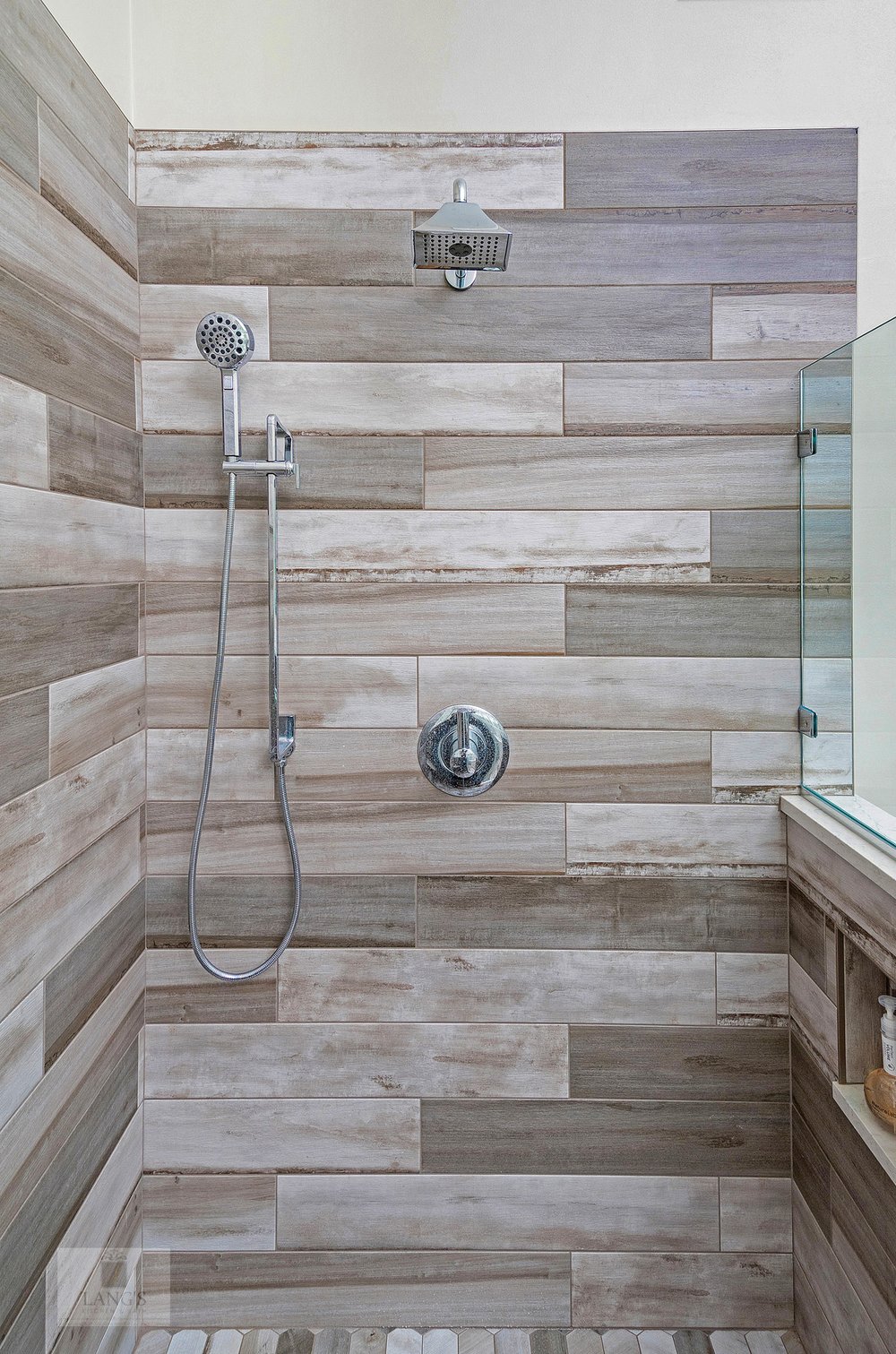 These are just a few of the amazing trends in kitchen and bath design for 2022.  If you are ready to update your home, we are ready to help with all your kitchen design, bath remodeling, or total home remodeling needs.  Get inspired in our design galleries and contact our team to start planning your new home living spaces.