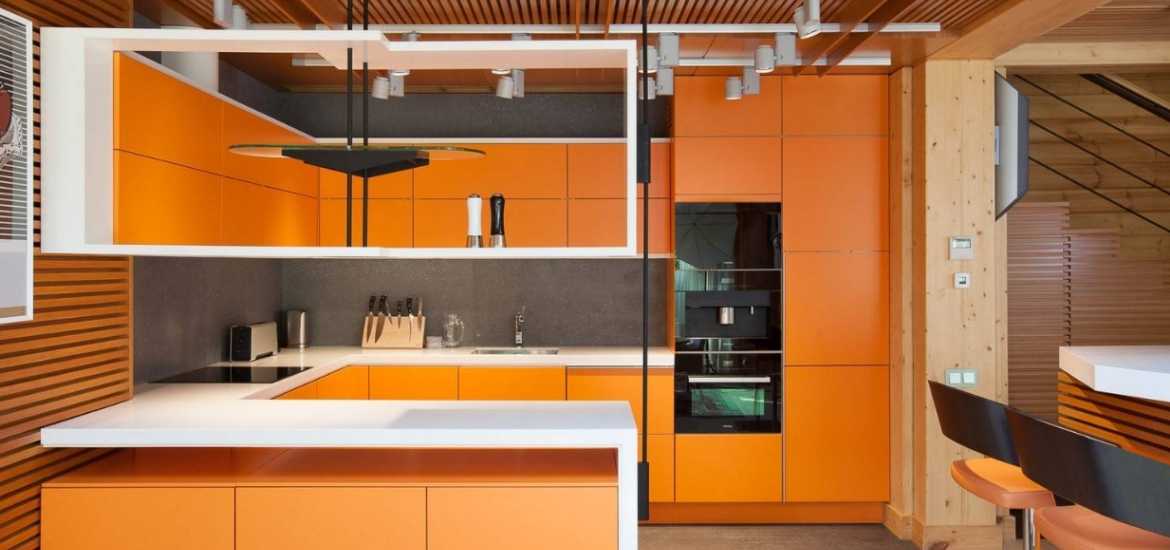 When bold red meets joyful yellow, we're left with a color that is extremely versatile and constantly chic—orange. The color orange represents success, happiness, and health, and it is known to promote emotional energy and general wellness. Whether you are planning to go all natural with terracotta or even go bold with citrus, orange will be your kitchen's closest friend.
Today, we're going to show you 23 gorgeous orange kitchen cabinet ideas to get you going with that long-overdue kitchen renovation.
MODERN
The orange cabinets look great with the black cabinets and stainless steel appliances.
TRENDY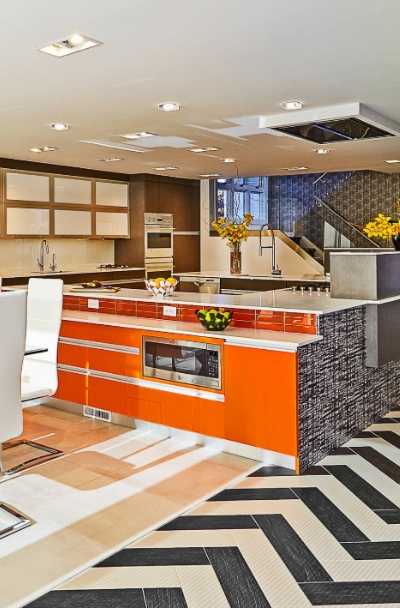 This modern and stylish kitchen features custom orange cabinets and backsplash.
TRANSITIONAL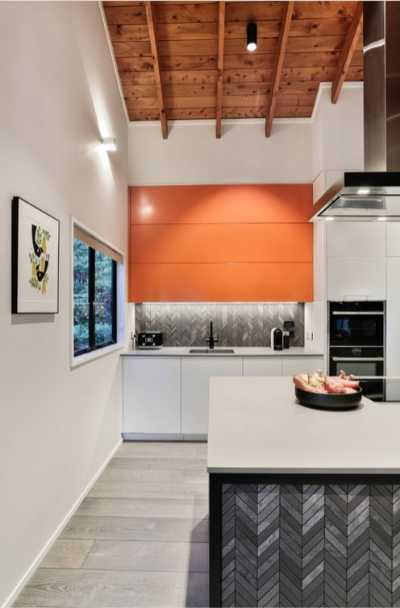 COOL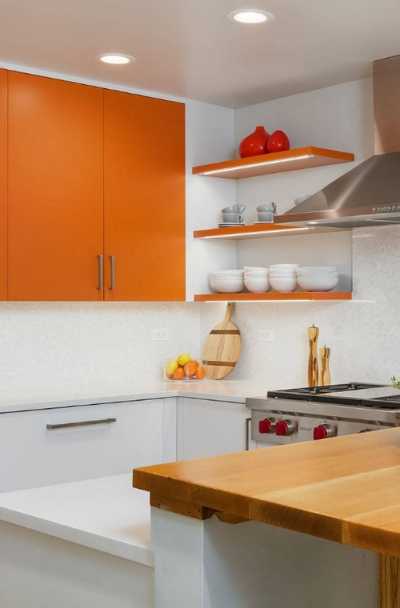 We love the floating shelves with orange paint and discreet lighting installation.
ORANGE & GRAY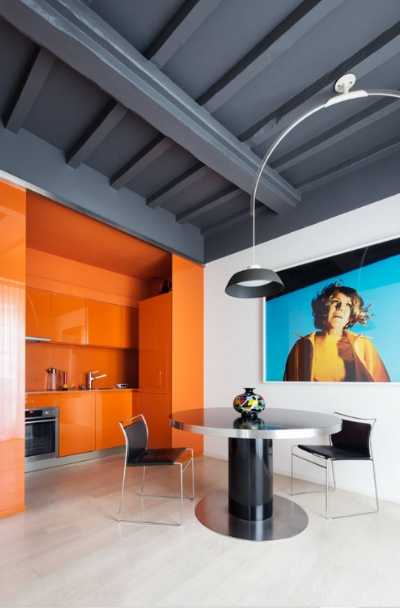 Bright orange cabinets and walls, gray ceiling, and unique pieces for this open kitchen.
DAINTY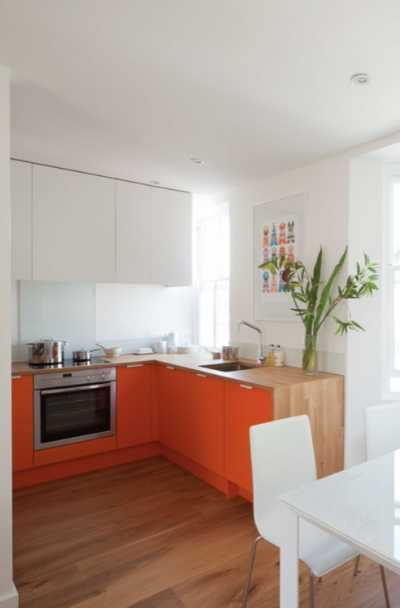 Orange cabinets, light wood floors, and white upper cabinets make a refreshing kitchen.
BRIGHT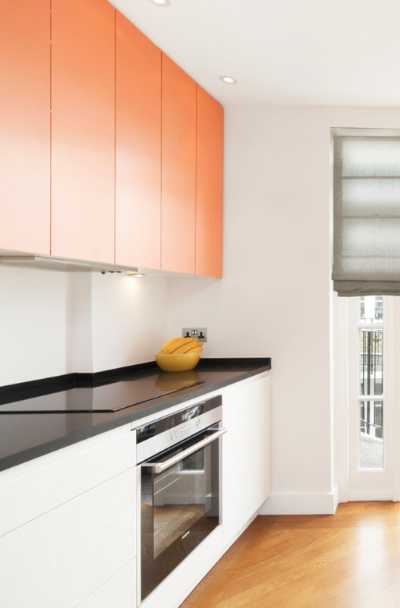 White paint for the lower cabinets, orange for the upper cabinets, and white for the walls.
SLEEK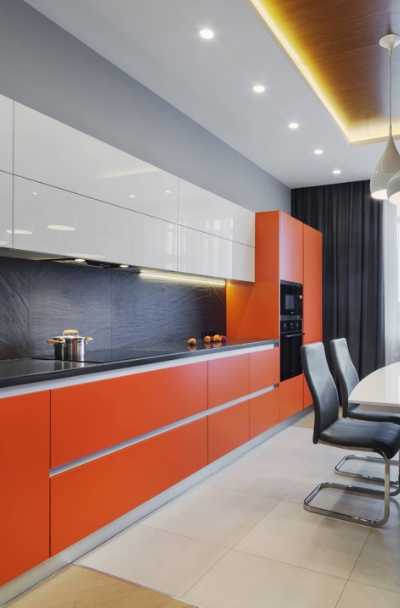 Increase sophistication in your kitchen by combining orange, black, and white colors.
VIBRANT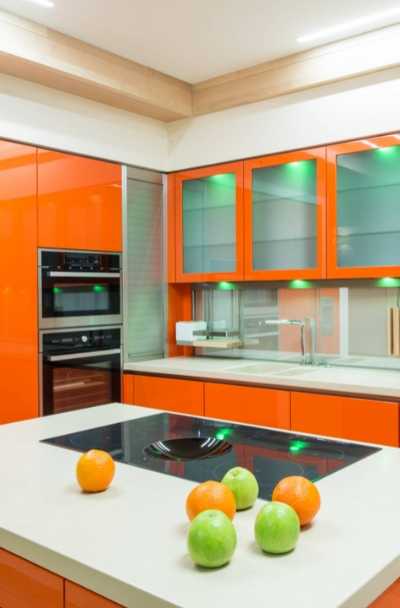 This kitchen looks vibrant and fresh with the orange cabinets. Love the frosted glass!
LAMINATED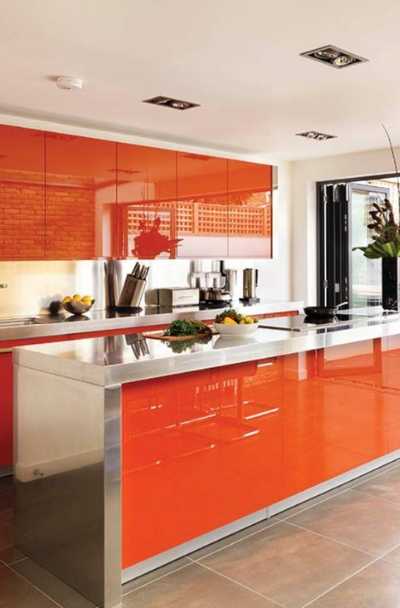 Step up your orange cabinet game by having laminated cabinets like these.
Why Use Orange For Your Kitchen
The final warm days of summer are fading into the sunset, leaving behind radiant shades of yellow, which will quickly display the changing colors of the foliage. Orange has a permanent place in our nature, and in case you are bold enough, you could gladly enjoy orange in an area in your house.
Orange is believed to be the color of creativity and pleasure, typically connected with meanings of warmth, balance, happiness, kindness, and enthusiasm. A happy color in general, orange might be a fantastic add-on to the home and uplift the spirits of anybody who enters.
With spring approaching quickly, we'll soon begin to crave the bright glow of a roaring fire. When summer comes back once again, we will be craving the vibrant colors of warm, sunny days. Orange is able to offer both! Orange has a distinctive personality, but that should not leave you intimidated.
Orange is a brilliant color, quickly becoming the star of the show when employed with home decor. Inside your kitchen, a bit of orange is going to go quite a distance.
ECLECTIC
Have fun decorating with orange by mixing it with other colors. The orange fridge is gorgeous.
SOPHISTICATED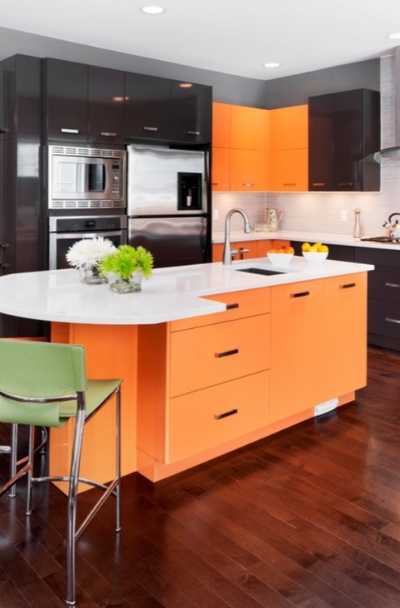 The combination of black and orange cabinets adds sophistication and character to your kitchen.
CLASSIC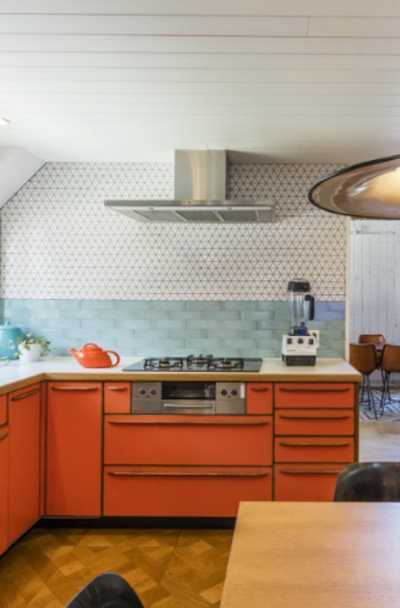 This kitchen looks classic and timeless with the orange cabinets and medium tone wood floor.
ARTSY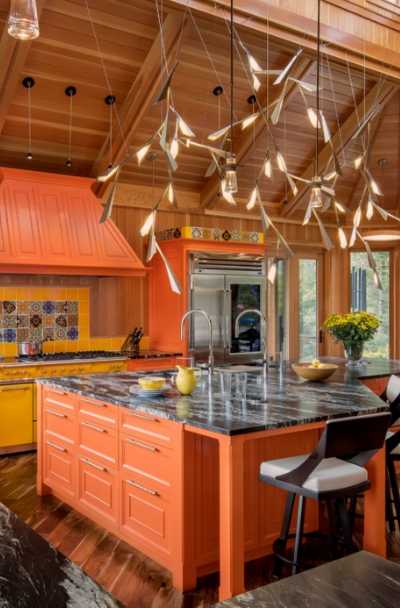 Orange island cabinets and range hood, combined with fancy light fixtures for this kitchen.
Different Ways To Use Orange In Your Kitchen
If trying to include color in your kitchen area without completely overwhelming the room, a colored appliance will quickly get to be the focal point of your kitchen when the majority of the decor is maintained neutral. Use orange kitchen cabinets or an orange appliance, such as a stove or a fridge, to put in a welcome pop of color to the room. Pair with complementary colors, such as silver, green, blue, gray, white, and yellow.
For all of those that are not fearful of a daring look, orange helps make a colorful and bright statement when painted on kitchen cabinets. Orange cabinets are going to give your kitchen a quick burst of character, creating friendly and warm energy, which will certainly be experienced by all visitors to your house. Pair with complementary colors, including white, green, turquoise, blue, and silver. Orange also pairs nicely with raw wooden flooring and surfaces.
Your backsplash is definitely your chance to get creative since the possibilities are endless. If looking to include a touch of the color orange in your kitchen, consider introducing the shade in your kitchen backsplash. Pick patterned ceramic tiles to finish a uniformed look, and craft your own unique glass mosaic to make a more custom layout.
Next, use the age-old method to put in a pop of color to a room—grab a container of paint. If looking to bring color to the house or kitchen, why don't you try a good traditional accent wall? An orange accent wall in your kitchen area pairs nicely with sophisticated and dark cork cabinets and with daring paired shades, such as navy blue, turquoise, and different shades of gold and bronze.
INDUSTRIAL
Orange cabinets with stainless steel appliances make this kitchen look fresh and inviting.
GORGEOUS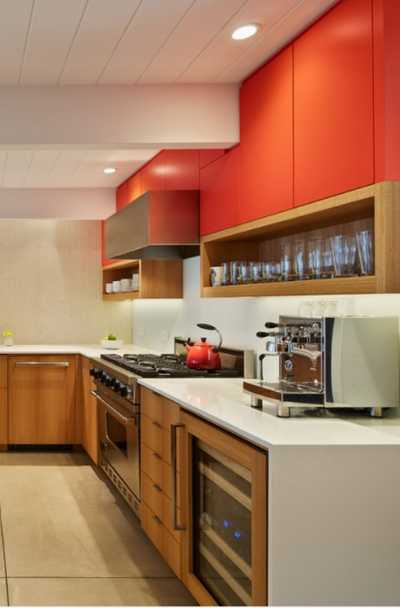 Bright orange cabinets, open wood shelving, and wood-stained bottom cabinets for this kitchen.
MODISH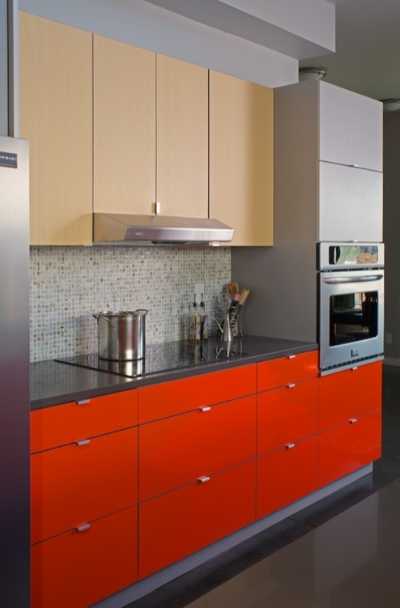 Cream and orange paints are a surprising combo, but this kitchen successfully pulled it off.
ORANGE & WHITE
Orange and white laminated cabinets for a modern-looking kitchen that has tons of character.
CONVENTIONAL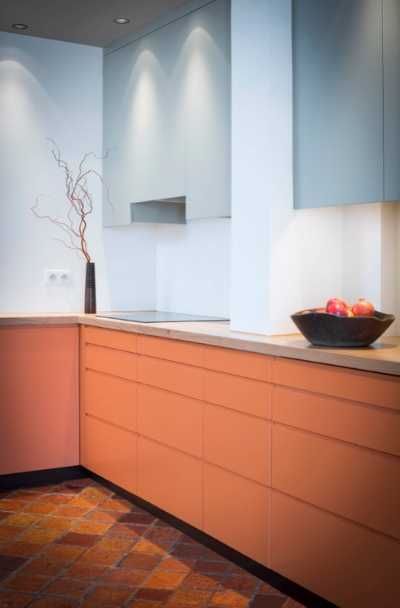 The light orange cabinets mix well with the floor material. A gorgeous fusion of modern and conventional.
CONTEMPORARY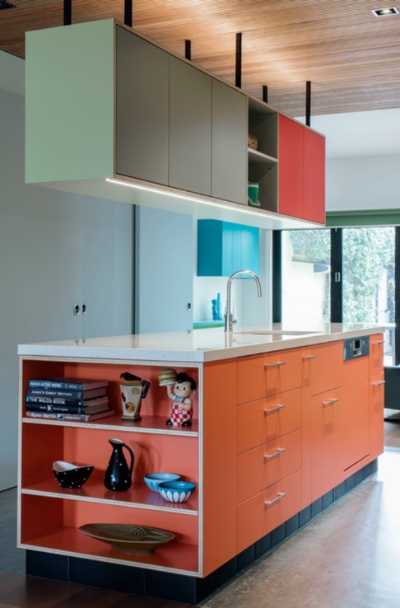 We love the custom-made orange cabinets. The open shelving allows you to showcase your finest kitchenware.
Design And Decorating Ideas
Orange kitchen colors are a fantastic tool for creating optimistic, modern, and bright home design and decorating. Orange color schemes are dramatic and warm. Contemporary kitchen style and orange kitchen accessories are amazing, exciting, and unique options to offer kitchen interiors a unique appearance and extraordinary feel.
Brilliant orange color schemes bring the joy of intense color into contemporary home design and decorating. Orange paint, wallpaper tiles, wall tiles, as well as orange kitchen cabinets and orange kitchen decor, are stunning. Often, small orange accents are hard to ignore.
Orange kitchen colors are particularly inviting and stimulating, adding coziness into contemporary home decor. Sebring Design Build shares a big collection of kitchen decor suggestions that demonstrate how you can incorporate orange color shades without creating too much brilliance and overwhelming country kitchen colours.
White kitchen cabinets look gorgeous with accents in the color orange. Lustrous orange and white kitchen cabinets in modern style may be mixed with all neutral colors, as well as brown shades of natural wood. Orange wall tiles and paint, wood laminate, or maybe vintage timber produce color schemes that are lovely for contemporary home design and decorating.
Orange color for dining home furniture, orange kitchen cabinets, orange decor accessories, and tableware are often utilized for contemporary home design and decorating ideas in Mediterranean designs. Putting in bluish accents and accessories in gorgeous green colors harmonize design color systems, which include hot orange color shades. Mediterranean hand-painted special tapestry artworks and pottery on display will accentuate kitchen interiors and make stunning kitchen area decor in Mediterranean style or country house.
TRADITIONAL
Love the look of the brick oven but also like the convenience of a modern one offers? Try this idea!
ORANGE & BLACK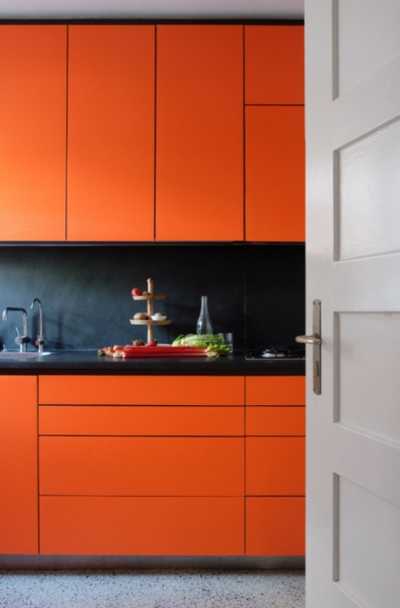 Black, orange, and white—you can simply never go wrong with this sleek color theme.
Using The Perfect Shade For Orange Kitchen Cabinets
Orange may not be the very first color coming to mind when it comes to kitchens, though it is a soft and strong shade which induces the appetite.
You will find numerous different methods you can go when dealing with orange paint colors for kitchens. From dazzling citrus-inspired hues to more earthy, terracotta tones, orange is often relaxed, as well as cheerful or soothing and enjoyable.
Orange is a bright color, which makes it a great choice for kitchens in much colder climates. It is able to bring warmth to an area, though it is essential to choose bold shades that feel timeless and sophisticated. When working with orange in your kitchen, try to always keep the area as minimalist it can be. In a cluttered kitchen space, this vibrant color will not shine.
Citrus orange is a great choice for a cooking area since it is fun and energizing, but in case you choose to go this particular path, ensure to temper a likely bold hue with neutral accents. The key element is finding orange colors that have a few brown or yellow in them to make sure they have a soothing effect but do not look too peachy and light—or feel like it's Halloween.
Pops Of Orange Will Do The Trick
 In case you are not prepared to try painting your whole kitchen orange, think about using bold pops of orange throughout the area, like on your kitchen cabinet, backsplash, or perhaps on a pantry door. You might like to think about painting only your kitchen island, a playful and bright orange, and going neutral on the rest of the space. 
It is likewise essential to learn what colors orange pairs nicely with for your kitchen painting ideas. Blue is exactly opposite orange on the color wheel, and both dark and light blue complement orange. White and gray could certainly help tame bold shades of orange while dark plum is a chic and sophisticated accent. In case you have dark wood in your home, a bright yellow paint color would enhance the wood tones neatly and make a cozy and warm outcome. If you want an earthy vibe, think about using burnt or a terracotta shade of orange. A soothing color, it appears to be great with dark wood and would include a stylish vibe to the space. 
Painting with orange will be the simplest & most affordable way to play around with this uplifting color. It is additionally the smartest way to add this color in case you think you may want to sell your house down the road. By selecting much more neutral appliances and country kitchen decor ideas, you are able to have fun with your walls, and it will be simple to repaint when you are prepared to switch things up.
Some great shades of orange for kitchens include Sweet Orange by Benjamin Moore and Kelly Moore by Sherwin Williams, but try out painting a couple of various shades of orange in your wall structure to discover the ideal color for your kitchen.
Final Thoughts:
For lots of households, the kitchen is among the most crucial areas in the home, and that is because this is the meeting location where meals and talk are experienced, creating an excellent environment that stimulates appetites and encourages socializing. With regards to selecting the proper color for your kitchen cabinets, you must understand that greens, blues, and purples typically suppress food cravings, but red and orange have the complete opposite effect.
One of the greatest things about choosing orange kitchen cabinets is the truth that this particular color promptly infuses playfulness & brightness for the space. Regardless of whether only one kitchen drawer is painted orange, the color's influences will still be felt strongly. Simply remember that like purple, orange must be utilized moderately and in case you like, you are able to likewise blend it with grey or white to attain an elusive poise.
This is an image roundup post, curated to showcase and promote other reputable contracting companies' and their amazing work.  To have any of the images removed, please reach out to us and we would be happy to do so.
The post 23 Orange Kitchen Cabinet Ideas appeared first on Home Remodeling Contractors | Sebring Design Build.